BISMARCK — The West Fargo boys basketball team began its title defense at the Due north Dakota Class A state tournament Thursday night by earning a statement win over Bismarck at Bismarck Upshot Center.
The East Region No. 3 seed Packers (19-6) had minimal problem with the West No. ii seed Demons (xix-6), earning a 87-64 win to advance to the Form A boys semifinals.
The Packers will square off with East No. ane seed Fargo Davies (22-2) at 8:thirty p.thousand. Friday back at Bismarck Event Center. The Packers and Eagles split the regular-flavor contests.
Meanwhile, the Demons volition face Bismarck Century (19-half-dozen) in a alleviation semifinal scheduled for 2 p.m.
Four players achieved double-digit scoring for the Packers, led by senior forrad Foday Sheriff with 24 points. Senior guard Parker Nelson and senior forwards Nick Carlson added fifteen points apiece, while senior baby-sit Carson Hegerle added 13.
The Demons were led by senior guard Treysen Eaglestaff with 31 points. Eaglestaff was a focal betoken for Due west Fargo, according to head coach Adam Palczewski.
"Our guys executed the defensive game programme," he said. "We made it really difficult for Treysen to get open shots. He's going to get points and he'due south fantastic, he got his average (tonight), but he had to work for them."
The primal to victory, however, according to Palczewski, was rebounding. The Packers out-boarded the Demons 49-34, led by Carlson with 13 and Sheriff with 11.
"The biggest thing is we rebounded," Palczewski said. "And we kept them from getting second-take chances points, which was huge for us."
Bismarck was limited to 12 2nd-chance points.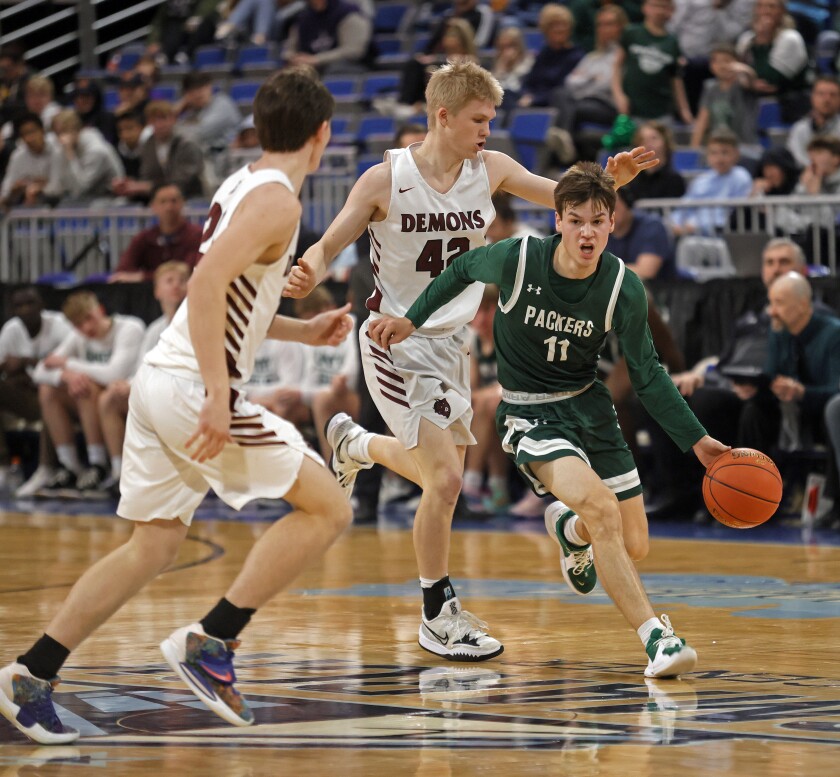 The Packers took a commanding 40-twenty lead at halftime. The Demons kept pace in the second half, being outscored only 47-44, merely it wasn't plenty to overcome the deficit.
West Fargo finished the day 35-of-70 shooting for 50%. Bismarck was 25 of seventy from the field for 35.7%.
The Packers went ten of 13 at the free-throw line, while the Demons were 5 of 7.
Senior baby-sit Brett Limke added ix points for the Packers. Following Eaglestaff in scoring for Bismarck was senior guard George Gillette with eight points. Senior forward Ethan Stotz led the Demons in rebounding with seven boards.
Palczewski said the semifinal tilt with Davies volition come downwards to containing the likes of freshman guard Mason Klabo and senior baby-sit Ian Motschenbacher, who scored 21 points apiece in their quarterfinal game with Bismarck Century.
"They've got two guys that are really practiced," he said. "So we're going to try to contain them as best we can and merely play actually hard defense again. If the shots are falling, it'll be a dandy night for us. Just I really liked our guys (Thursday). We executed downwardly the stretch, nosotros ran our sets, we took time off the clock and we played like seniors."
Halftime: Westward Fargo twoscore, Bismarck twenty
WF: Sheriff 24, Nelson 15, Carlson 15, Hegerle 13, Limke 9, Zepeda 5, Grefsrud 4, Parries 2.
BM: Eaglestaff 31, Gillette eight, Janher 7, Stotz half dozen, Sims 4, Scott 4, Austin 2.
Source: https://www.inforum.com/sports/prep/west-fargo-boys-begin-state-title-defense-with-big-quarterfinal-win-over-bismarck