Alan Pergament: Buccigross, Ferraro were scary skilful calling the Sabres game vs. Eichel on ESPN+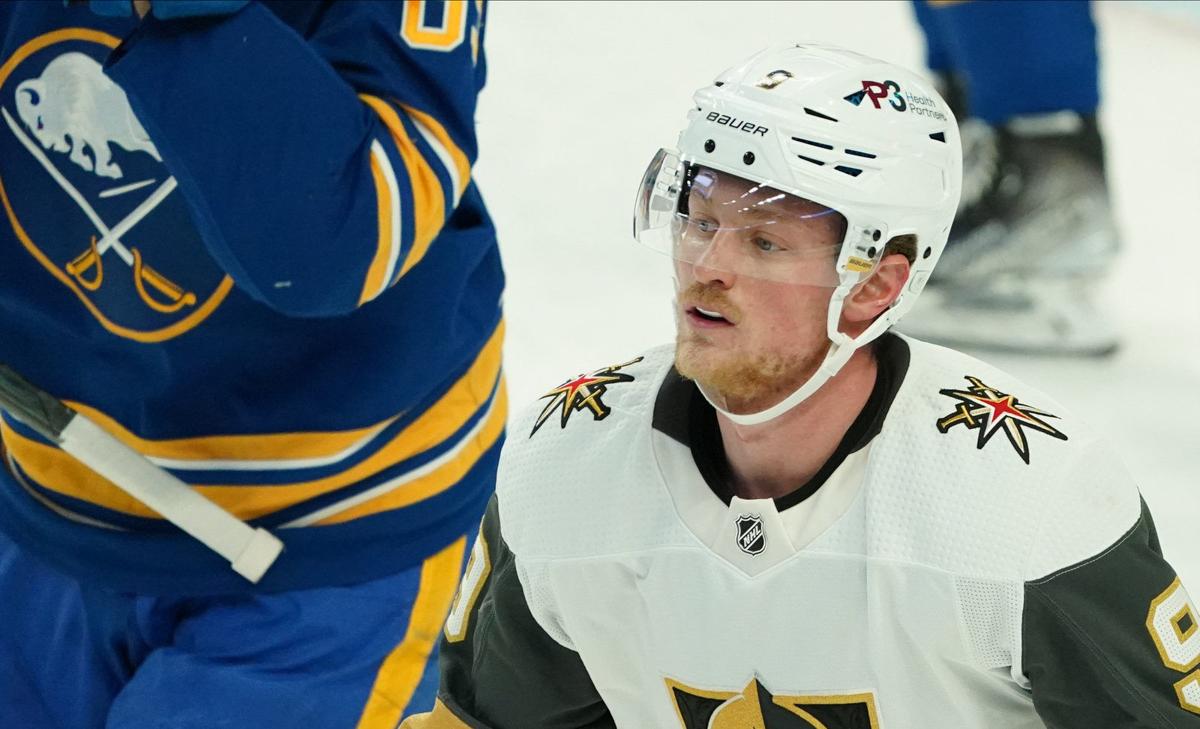 I'm sure many Buffalo Sabres fans wished they could take heard Rick Jeanneret or Dan Dunleavy call Thursday's game with Jack Eichel's Vegas Golden Knights on MSG.
But hearing the ESPN+ crew of play-by-play announcer John Buccigross and analyst Ray Ferraro was a welcome modify during the Sabres' 3-one victory over Eichel's team on national streaming Tv set.
They were expert. Scary good.
While Eichel's return to Buffalo was the main storyline, the two announcers clearly had done their homework on the Sabres and made an upset Buffalo win featuring two fights seem like more than fun than any Buffalo game this year.
Buccigross interspersed his play-past-play with commentary on when Kyle Okposo's contract ends, Alex Tuch as a possible future Sabres captain and Eichel'southward asking to exist traded a year before his cervix injury.
"Some fans might not know," said Buccigross.
"I call up well-nigh (exercise)," replied Ferraro.
Some fans might not take known that Sabres double-decker Don Granato compares the vision of Peyton Krebs to that of Toronto star Mitch Marner until the announcers said it.
Of course, Buccigross noted that the first goal by Krebs and the last one by Tuch were past players the Sabres received in the Eichel trade.
He fifty-fifty practically predicted the winning goal by Sabres winger Victor Olofsson, noting that he had a strong shot seconds before he scored.
And the play-by-play announcer was sure to mention a few times "what a fun game, lots of drama at that place was" before he celebrated Sabres goalie Craig Anderson'due south 300th victory with a line at game's cease that was much appreciated past the Sabres fans who like movies as much every bit hockey.
"Tonight, we dined in hell," said Buccigross.
I'g sure I was non solitary in thinking: what in heck was he talking nigh? And so several Twitter followers advised me it was a line from the 2006 flick "300" that has a bandage that includes Lena Headey before her "Game of Thrones" days.
It wasn't the only time Buccigross had me stumped. When players on both teams were testy with each other near their benches, he described information technology as "jocularity." It must have been his way of downplaying what was happening with a joke.
Naturally, Buccigross tallied all the boos directed Eichel'due south way.
"Yous hear boos, that means No. nine is on the ice," said Buccigross.
Noting the pair of fights in the game, Buccigross stated that the Sabres and Vegas have played only 2 times in two years.
"Just they've got some instant detest," he added.
He likewise did the play-past-play announcer's chore of request Ferraro to assess Eichel'south play in the third period. Ferraro said Eichel played a potent 200-foot game but needs to exercise more offensively.
With all of ESPN+ pregame hype about Eichel's return to Buffalo, it would have been preferable if it had stayed with the video tribute to Eichel rather than become to a commercial when it played inside KeyBank Center.
Buccigross and Ferraro seemed like co-partners during the game, with the analyst appearing to get considerably more airtime to talk than Rob Ray normally gets during Sabres games on MSG.
Ferraro was cocky-deprecating, opinionated and fun to listen to too.
How opinionated? He said the Golden Knights power play "stinks."
When the Aureate Knights' Jonathan Marchessault took a retaliation penalty that led to the winning ability play goal by Olofsson, Ferraro instantly called it a bad penalty.
"I know because I took that punishment 50 times," said Ferraro, who scored 408 goals in his lengthy NHL career.
Ferraro also instantly recognized that the Gilt Knights' Keegan Kolesar would go an extra two-minute penalization afterwards his fight with the Sabres' Casey Fitzgerald for breaking the hockey "code" of not throwing punches after one of the combatants is on the ground. Kolesar received the extra two minutes, though it was unclear if it was because he bankrupt the code or because he instigated the fight after Fitzgerald ran into a different Gilt Knight.
He also suggested which veteran Sabres would be moved before the trading deadline and explained that young centers similar the Sabres have generally don't exercise well with faceoffs until they get more experience.
Of course, there was a nice cursory mention that Ferraro is married to Cammi Granato, the sister of Sabres coach Don Granato. She is the all-time leading scorer in The states Women'southward National Squad history and now assistant general manager of the Vancouver Canucks.
Sabres fans who subscribe to ESPN+ or Hulu – which carries the games – also had to enjoy Buccigross and Ferraro talk near what a neat sports and hockey town Buffalo is despite the pocket-sized crowds this season and predicting large things to come with a young Sabres team.
"They'll love the Sabres once more," said Buccigross.
"For a team trying to build skillful news to fans and themselves in the locker room, this win is one of them," ended Ferraro.
Those armchair fans who stayed for the postgame evidence were able to come across an interview with Eichel that is sure to pb to more boos for him the next time he plays in Buffalo.
"This is about the loudest I've heard this place always. Really," Eichel said. "It only took seven years and me leaving for them to become into the game. Information technology was a nice tribute and in that location were enough of people here that were supporting me and enough of people here that were booing me. They must just be booing considering they wish I was still hither. I don't know.
"It is what it is. I'm non the first guy to bargain with it. Only move on. Information technology was a tough game. Give them credit. They played hard."
Steve Levy, the pregame, intermission and postgame host, couldn't stop smiling later he heard what had to take been the best shots Eichel took all day.
Levy chosen the remarks "refreshingly honest" only his grinning suggested he was thinking something else.
You'd expect remarks similar that from the nineteen-year-old Jack Eichel, not the supposedly mature 25-year-erstwhile Jack Eichel.
If I had gone to the game, I would have cheered him then regretted it after hearing those comments.
Source: https://buffalonews.com/entertainment/television/alan-pergament-buccigross-ferraro-were-scary-good-calling-the-sabres-game-vs-eichel-on-espn/article_f18a6cf8-a143-11ec-b152-d7a66acc44ee.html